This giveaway is now closed! Congratulations to Joann, who will surely be stylin' with her new clutch! Be sure to enter our latest giveaway to win a pair of earrings by Lauren Haupt.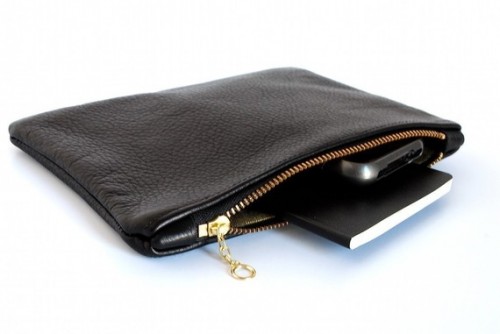 Born in Prague, Marketa Psen attended college at New York's Fashion Institute of Technology, earning a degree in accessory design. After graduating, she founded Marketa New York, a line of minimal clutches and handbags crafted from Italian leather. Her pieces are clean and edgy, and her eye for unexpected detail is evident in her choice of contrasting materials and colors and her use of exposed hardware. All bags are handmade in New York. Marketa has generously donated a gorgeous Black Leather Mini Clutch for our holiday giveaway. It would make a great gift for a man or a woman (that is if you can part with it), and it's the perfect size for storing your keys, phone, camera, and other personal odds and ends that inevitably go missing in your bag.
So you wanna win this awesome clutch? Here's how it works!
*Add a comment to the bottom of this post and tell us which piece is your favorite over at Marketa's site.
(Extra entries! (Add these as separate comments for more opportunities to win):
*Leave a comment that you are now following Marketa on Twitter.
*Leave a comment that you have blogged or tweeted about the giveaway! (and leave us a link )
*Leave a comment that you have added Marketa on Etsy as a favorite!
*Leave a comment that you are now following The Function Key on Facebook or Twitter!
***Please make sure to leave a valid email address in the comment!***
We will close the giveaway on Sunday, December 5th at Midnight! So get your entries in!