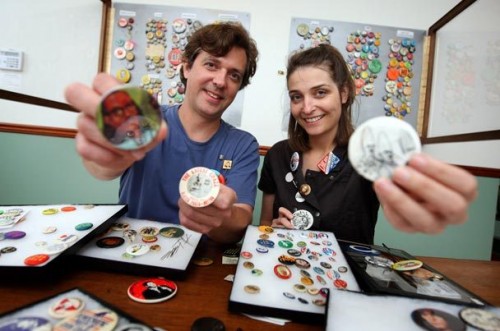 Everywhere you turn, someone has a statement to make…and judging by the work of Christen Carter, founder of Busy Beaver Button Co., the biggest statements are often best made on a small platform…such as a 1 inch button.
In the late 1800s, buttons were used as a colorful way to promote all kinds of things…politicians, celebrities, holidays, landmarks and, well, just about everything else.  And although buttons did take a lengthy hiatus from the limelight in the early 1900s, they reappeared in the 1960s and were considered a fashionable method to show support for political causes, favorite bands, artists, etc.  Today, besides their popularity in the punk scene, buttons haven't been considered cool since the 80's when teens used them to adorn their backpacks and jeans jackets…but thanks to Carter, buttons now seem to be making a comeback.
Last month, Carter celebrated Busy Beaver's 15th year anniversary of button making with the grand opening of its pop culture button museum in Chicago; a collection of about 1,000 buttons in four display cases mounted on the factory walls.  With buttons dating back as early as 1896, Carter hopes that this museum will help others to view buttons less as cheap souvenirs and more as time capsules…a lesson in social history.
Carter began the company in Bloomington, Indiana. then moved it to San Francisco, and finally settled down in Chicago.  They have since developed over 18,000 designs and produced millions of buttons for clients such as Missy Elliot, Bumble and Bumble, Addidas, Threadless, and Burger King; but also produce for regular clients who would like buttons made for their own hobbies, clubs, events…or whatever else your little heart desires!