Dear Santa,
This year, Kirin would like to receive the following gifts beneath her Christmas tree . . .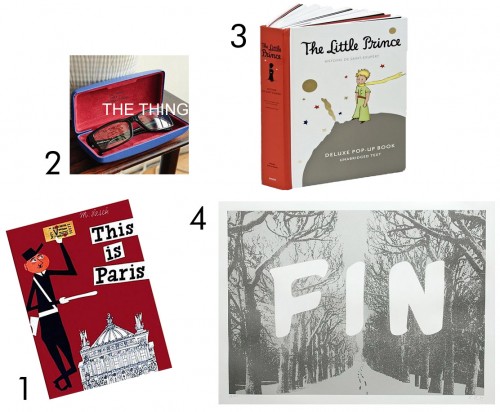 1. This is Paris! by Miroslav Sasek — an amazing children's book to help her prepare for her French excursion in May (and to add to her Sasek collection)!
2. A subscription to The Thing Quarterly — instead of a magazine subscription, you get a quarterly periodical in the form of an object. Four artists, writers, musicians, or filmmakers are invited to create an everyday object that somehow incorporates text. Amazing!
3. The Little Prince by Antoine de Saint-Expupery — one of her favorite books ever. . . now in a pop-up version!!
4. Fin poster by Richard Roberts to be framed and hung up over her bed. The perfect way to end a long day. The End.