Vahram Muratyan's Paris vs New York blog is genius. It basically confirms my belief that Americans could take a cue from the French when it comes to the finer things in life — coffee, good bread, and film.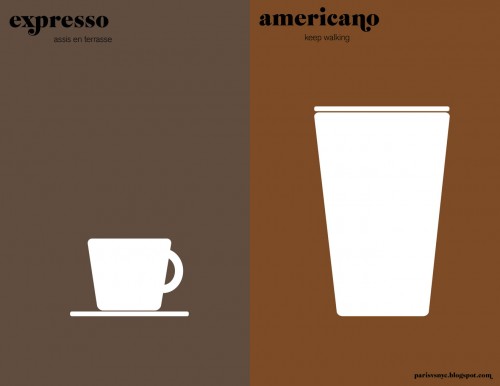 And we wonder why Americans are so fat. Based on the food and beverage comparisons alone, Paris vs New York should be called Petite vs Obscene. When it comes to the caffeine fix, the French opt for a delicate espresso to be enjoyed standing at the bar. In America, coffee orders can be cringe-inducing, like "Lemme have an extra-large with 10 sugars and extra cream." Let's be honest. At this point, you aren't even drinking coffee. You might as well have ordered a coffee milkshake and should consider placing a bulk order for diabetes testing kits.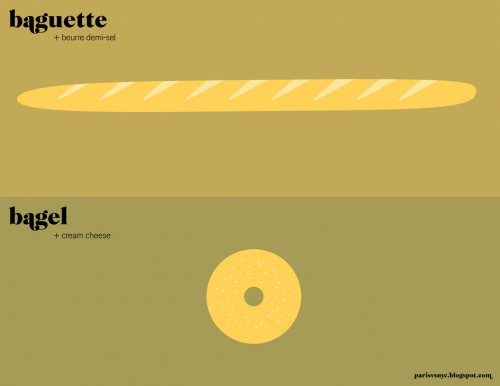 Ah, yes, the cultural carbohydrate contingent. Personally, I'm a baguette lover. Love the taste. Love the crusty exterior. Love it paired with butter. Love it paired with jam. And love how romantic it looks sticking out of my tote bag as I pedal through the park. Bagels are not nearly as aerodynamic or idyllic. Moving on . . .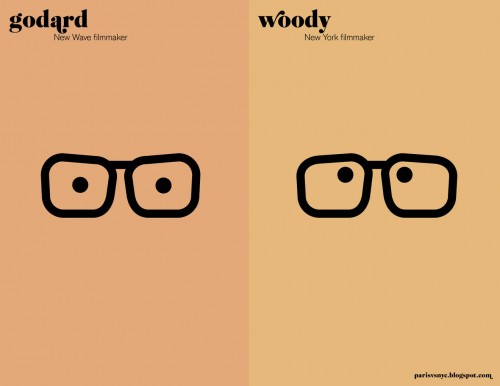 Hmm, this one's kind of a toughie. I think it's safe to say that directors are known for having eccentric (questionable) behavior. In this case, Godard (father of Nouvelle Vague) may or may not be an anti-semite, and Woody may or may not have pedophilial tendencies. But, let's let the facts speak for themselves, shall we? Godard ranked No. 3 on the BFI's list of The Top 10 Directors, whereas Allen didn't even make the list.
Winner: Paris!