When I got home from work the other night I was going through the mail — bill, bill, magazine, Barbie catalog, bill — wait, a Barbie catalog? My curiosity peaked,  I forged on — obscene highlights from The Blonde Collection, a limited run, collector's dream, include a $9,000 chandelier made of blonde Barbie locks (designed by Project Runway finalist Chris March — love him!):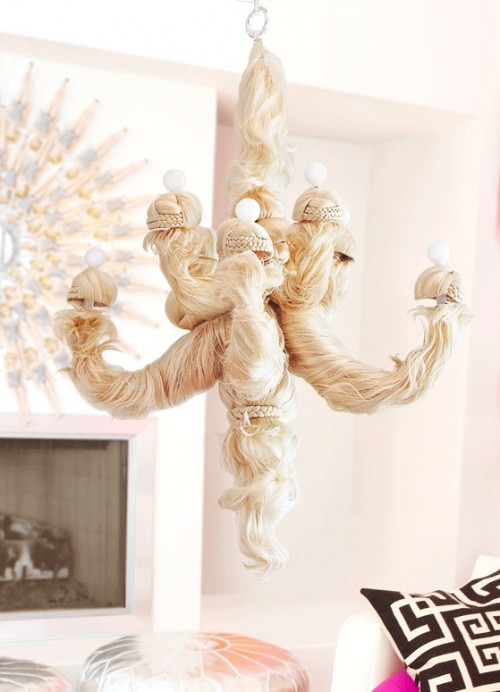 Locks of Light designed by Chris March, $9,000.
A $12,500 beryl gemstone cocktail ring in a micro-pave setting surrounded with 222 diamonds; one of a kind Barbie dolls designed by avant-garde fashion duo The Blondes (never heard of them) just $5,000 — each (and sold out) — or for the same price and for the woman (or man) who wants it all and wants it now, the instant Barbie collection (also sold out) — 40 dolls, all clad in gold outfits, allow five weeks for shipping (so much for having it now!).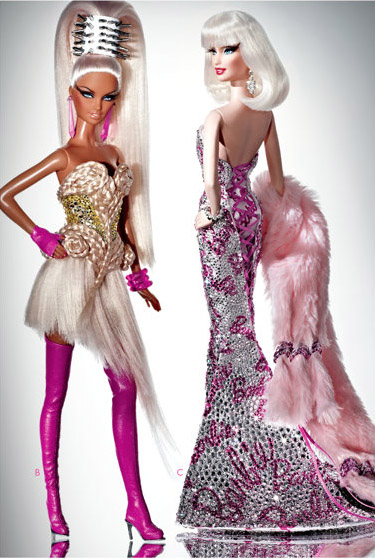 Coiffed Couture and Say My Name designed by The Blondes, $5,000 each. Sold out!
If I hadn't just watched The Real Housewives of Beverly Hills episode wherein one of the over-injected femmebots buys 20 $275 Barbie collection necklaces as favors for her daughter's 4th birthday party, I might wonder who buys these extravagant things? But now I know, she does. And so do her friends.
The more affordable items in The Blonde Collection also happen to be the less memorable ones — headbands for $15, Blonde Barbie enamel bangles for $15, a Pink Up The Party melamine tray and cup set for $40, etc. My favorite items were the "You're So Vanity" mirror and brush set printed with a vintage Barbie illustration (just $100); a 1972 Barbie styling head (repro of course) for $250; and the second in a series of "modern pop art" prints that comes printed on 1/2″ thick white plexiglass, only $750!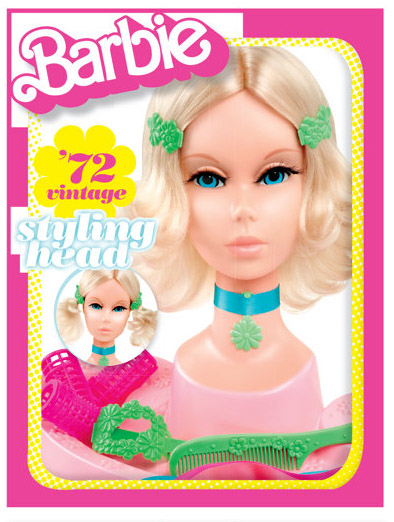 Best Tressed, $250. Sold out!
But, the creme de la creme of The Blonde Collection has to be the Farrah Fawcett prototype doll (only one available) based on the iconic pin-up photo that launched her career, which comes with the now legendary, multicolored drug rug blanket used for the backdrop. I might just have to buy one when they're officially launched in Fall 2011.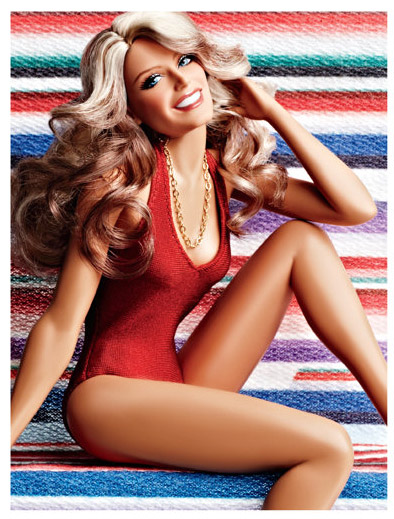 From One Icon To Another, $1,500. Sold out!