This contest is now CLOSED!!! Congratulations to Liz, Brianna, and Amber who will be sending stylish holiday greetings to all of their friends and families!!!
Up For Grabs From Design des Troy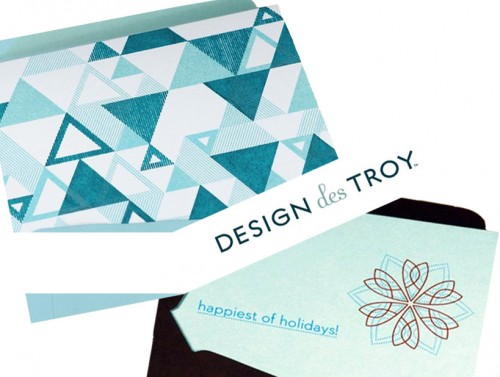 1 set of Happiest of Holidays cards and 1 set of Holiday Triangle Pattern cards (six cards in each set).
Samantha and Owen Troy met while studying graphic design at RISD. After the requisite courtship, an engagement and wedding followed, which is when Design des Troy was born. As they were planning their wedding, the couple decided to collaborate and design their own wedding invitations, and the next thing they knew, they were collaborating on other people's wedding invites, album covers, and greeting cards! Samantha and Owen are based in San Francisco and also co-edit The Experts Agree.
Up For Grabs From Gold Teeth Brooklyn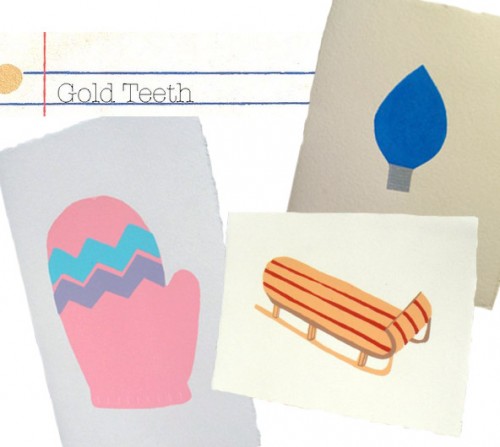 Five Gold Teeth Brooklyn cards wrapped in bakers twine
Jesse and Emily are two Brooklynites who run Gold Teeth Brooklyn out of Jesse's apartment. The design duo create quirky greeting cards and prints of illustrations that remind of how objects might look like through a child's eye. Additionally, the pair have added a line of jewelry to their repertoire — brass and sterling silver necklaces cast from real objects like erasers, peanuts, and teeth! Be sure to visit Gold Teeth's Etsy shop to check out all of the designs.
Up For Grabs From IN HAUS Press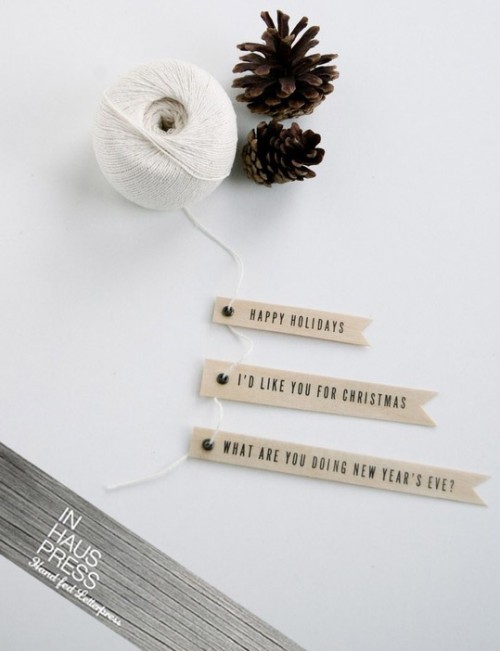 One set of Holiday Gift Flags printed on birch veneer.
What happens when a pastry chef and an engineer join forces to design paper goods? IN HAUS Press that's what! Based in San Francisco, this design team draws on their intuitive designer/craftsman skills and their appreciation for hand-set type to produce modern paper goods that incorporate natural elements and are uniquely packaged in drawstring cotton bags. Also, through December 15th, IN HAUS Press is offering free shipping on all orders!
So you wanna win one of these awesome items? Here's how it works!
*Add a comment to the bottom of this post and tell us which piece is your favorite over at Design des Troy's shop, Gold Teeth Brooklyn's shop, or IN HAUS Press' shop (Choose One Shop!).
(Extra entries! (Add these as separate comments for more opportunities to win):
*Leave a comment that you have blogged or tweeted about the giveaway! (and leave us a link )
*Leave a comment that you have added Des Troy Design, Gold Teeth Brooklyn, or IN HAUS Press as a favorite on Etsy!
*Leave a comment that you are now following The Function Key on Facebook or Twitter!
***Please make sure to leave a valid email address in the comment!***
We will close the giveaway on Wednesday, December 1st at Midnight! So get your entries in!