This contest is now CLOSED!!! Congratulations to our winner Katy L. of North Carolina! Thanks for participating! Our next giveaway starts Monday!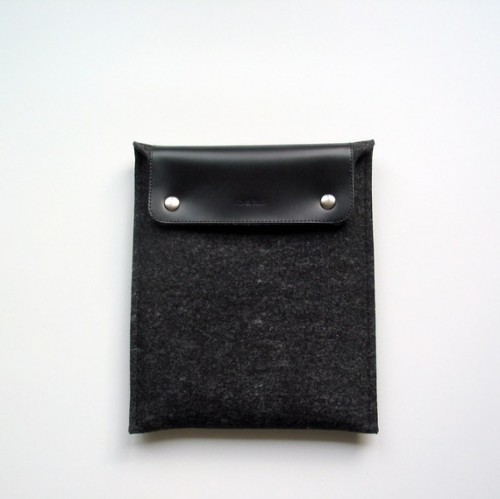 Tired of the corporate world's daily grind, Australian-Polish duo Alexandra Wrega and Rafal Szamborski traded in their day jobs to pursue something a little more rewarding. The couple began designing leather; felt; linen; and cotton bags, totes, and cases and their shop rib & hull was born. Using the highest-quality materials — 100% German designer felt (the highest quality of felt available), locally tanned leather, organically grown and dyed linen Swedish linen, and organic cotton– the duo successfully executes stylish products for stashing your gadgets and day-to-day items.
In honor of Have A Handmade Holiday, rib & hull has generously donated a gorgeous anthracite-gray wool felt and black leather iPad sleeve (it also fits a Kindle) for you to win! We hope you'll find it appropriately relevant, what with Apple being the news lately and all — have you heard? The Beatles have officially gone digital!
Here's how it works!
Add a comment to the bottom of this post and tell us which item is your favorite over at rib & hull's shop.
(Extra entries! (Add these as separate comments for more opportunities to win):
*Leave a comment that you are now following rib & hull on Twitter.
*Leave a comment that you have blogged or tweeted about the giveaway! (and leave us a link 

)
*Leave a comment that you have added rib & hull on Etsy as a favorite!
*Leave a comment that you are now following The Function Key on Facebook or Twitter!

***Please make sure to leave a valid email address in the comment!***
We will close the giveaway on Friday, November 19th at 5:00 p.m.! So get your entries in!