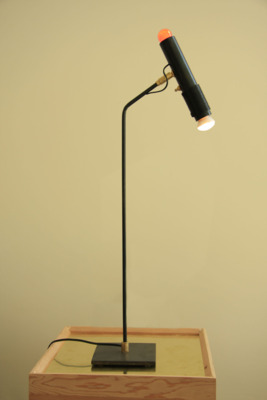 Love Light by Robert Lewis, $850
A few days ago I wrote about The New Yorker iPad commercial featuring Jason Schwartzman. And while the piece is brilliant, what really caught my attention was this little bedside light in the first scene. I haven't been able to stop thinking about it since. So I contacted someone at The Directors Bureau (founded by Roman Coppola, who shot the commercial) inquiring about the set design, but they must be super busy filming award-winning productions because I still haven't received a response.
Then, as I was booking a room at the Ace Hotel in Palm Springs for an upcoming vacation, there, above the bed was the very same light! Fate, I thought! So, yes, off went another inquiry — which also remains unanswered, must be too busy running that hotel of theirs.
Finally, today, after a bit of sleuthing, I answered my own question. The lights are designed by Los Angeles-based artist Robert Lewis and were commissioned by Commune and designed specifically for the Ace Hotel, Palm Springs. They're called Love Lights and they have two bulbs — one red, one white — which are intended to change the mood at the flip of a switch. They are a bit out of my price range at the moment, but at least I'll get to test them out for a few nights while we're in Palm Springs — for about 1/8 of the cost. Another mystery solved, another case closed.