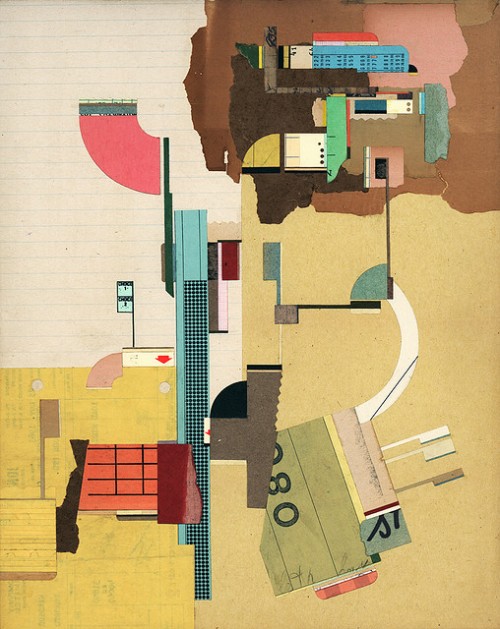 For me, Jacob Whibley's collages are a reminder of simpler times. I think of  grade school — writing weekly journal entries on lined newsprint and grimacing as it tore from the pressure of my eraser or the year I practically lived in the library because I was required to write a book report every single week — totally true, the librarian, Mrs. Mras, is now a good friend of my mother and still remarks how she remembers my little face returning books on the very last day of school.
Other pieces remind of working part-time at a drycleaners in high school. I loved that job because we had to type orders onto an invoice using a massive inventory computer and then tag them with a ticket gun. It felt very professional. At the time, I didn't realize how beautiful all of these tags, invoices, and sheets of paper, etc., were, they were common place, ubiquitous.
Since then, the way we work has changed so much. Using paper has turned into a lesson of conservation, with an increasing absence in our work culture. We certainly won't be returning to the wasteful ways of yesterday, but if for nothing else, those moments and modest methods remain fresh in my mind and inform who I am today.