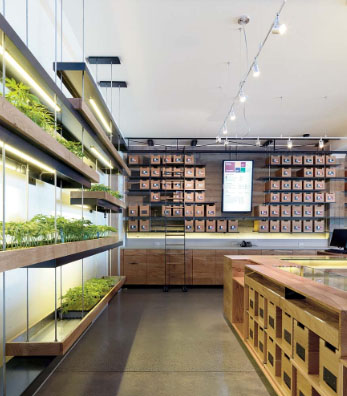 Photo taken from The New York Times.
Excuse the title's pun, it happened totally by accident, but then I liked it, so it stayed. Moving on.
The San Francisco Patient and Resource Center could very well be the tipping point for the future of marijuana dispensaries. And that's exactly what founder Erich Pearson wants. Pearson had been growing medical marijuana for years. So when he decided to open his own business, and he wanted to do it in a way that changed the industry's model. For Pearson, that started with the architecture and design, the most apparent way of showing the world the validity of medical marijuana dispensaries.
He hired Larissa Sand of Sand Studios, who toured area dispensaries to get a feel for the business. In addition to realizing the strength of the community, she also noticed that its attention to aesthetics was virtually nonexistent. And so, using Twin Peaks Tavern (a Gay bar in San Francisco's castro that stakes claim to being the first Gay bar with clear windows as opposed to blacked out windows) as inspiration, she went about designing a modern, minimal space that both the owner and designer believe will help further the legitimacy of  the cause.
 Read the article "Splendor in the Grass"