Some mornings I wake up and virtually sleepwalk through my shower — which I barely have time for anyway, so forget about washing my hair. My eyes look like they need a lifeline, and my skin feels parched. Hopefully, I'm not alone here. If you've never experienced these issues, you're either too young to be reading this or you should be on the Pope's shortlist to sainthood.
To combat my sometimes deathly morning presence, I've compiled an emergency product kit — Alive in Five! — that leaves me feeling refreshed, smelling good, and most importantly looking undead. Follow my steps below and you'll at least look like you're among the living again.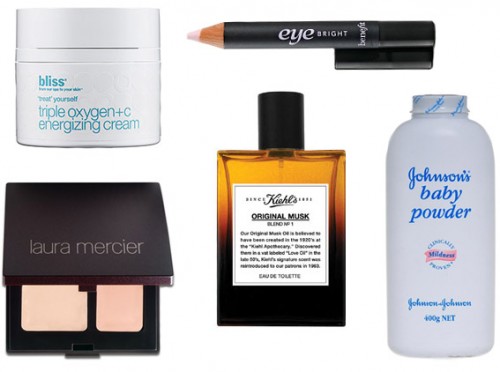 Alive in Five!
Step 1: Apply Bliss Triple Oxygen+C Energizing Cream to your face and neck. I use this because the oxygen promotes cell respiration. The cream also strengthens your collagen and hydrates your skin. Plus it smells great. Skincare infused with oxygen is something to keep an eye on. It's what makes your skin look younger and renewed. I think we'll be seeing a lot of more of O2 infusion in the future.
Step 2: Apply Benefit Eye Bright to the corners of your eyes, your brow bone, under your eyes, and anywhere else that looks remotely dull. Blend well.
Step 3: Using a concealer brush, apply Laura Mercier Secret Camouflage. There are two color trays, apply one color to one side of the brush and vice versa. Mix them together on your hand, and then blend well on dark areas and blemishes. I've read that to look instantly fresh you should apply concealer to the corners of the eyes, the corners of the nose, and the corners of the mouth. So if time's an issue, hit those areas. I do use the Secret Camo under my eyes, although experts recommend using Secret Concealer instead. After you're blended, use a translucent loose-setting powder.  I use Bare Escentuals Mineral Veil. Apply a little blush to the apples of your cheeks, and you're good to go!
Step 4: Onto your hair. Remember, little time means no time to shampoo your locks. Instead, settle for running some baby powder through your hair. It'll get rid of the grease and make your hair smell good. As a platinum blonde, it also makes my hair brighter. Bumble and Bumble has a whole line of powders specifically for this purpose, but since I don't do use it every day, I don't think it's worth the money.
Step 5: Spritz something that smells good on your neck and wrists. Don't rub! It's ruins the chemical composition of the product. My go-to scent for the past three years has been Kiehl's Original Musk. There's nothing like it. It's unisex (Ryan uses it, too), and smells different on everyone.
That's it! Now get to work!