The Internets are all atwitter with news of CB2's The Selby Is In Your Place contest, and, well, we've entered our apartment. The basic jist of the contest is to get as many votes as you can to advance to the second round of 50 contestants, at which point winners will be chosen. And the grand prize winner will get a $10,000 CB2 gift card and a photo session with Todd Selby!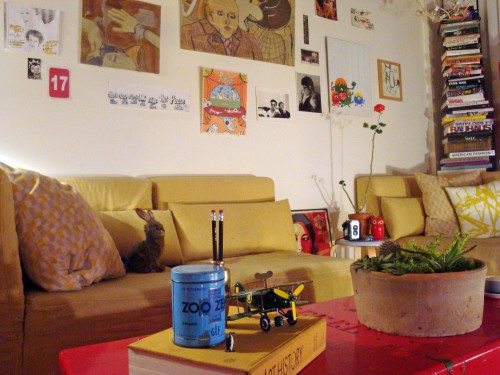 So, we thought we'd gather evidence as to why our place is Selby worthy (and based on Refinery29's guide "How To Get The Selby All Up In Your Place," we think we have a fair shot).
1. Todd Selby loves artist's residences. Ryan is an artist, and our apartment has an art studio!
2. Todd Selby loves collections. We collect 7-inch records, Kinder Egg Toys, and vintage electronics.
3. Todd Selby loves photographing cute couples. We're a totally cute married couple!
4. Todd Selby loves stunning architectural features. Our apartment has stunning cathedral wood beam ceilings and 8-foot tall windows!
5. Todd Selby wrote a book! We have A TON of books.
So please, support us!
Take one minute. Click on this link (http://www.theselbycontest.com/entry/78018). Vote for our space.