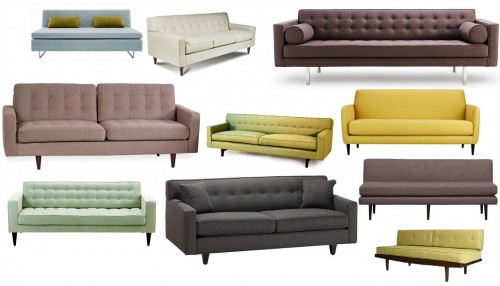 Clockwise from top left: Blu Dot Clyde Sofa; Boston Interiors Giselle Sofa; Fashion4Home Chelsea Sofa; CB2 Parlour Sofa; CB2 Draper Sofa; Urban Outfitters Mid-Century Sofa; Rowe Furniture Dorset Sofa; 2BMod Bel-Air Sofa; Alphaville Design Robert Petrie Sofa; Steven Anthony Dupont Sofa (in tarragon)
We're in the market for a new sofa. Our old sofa (a yellow slipcovered sectional from West Elm) could potentially last another two years if it weren't for the shoddy slipcover, which West Elm conveniently no longer stocks. I actually found a replacement slipcover on eBay two years ago and for some reason decided not to buy it. Now, I'm kicking myself.
We're not looking to spend a lot of money, which puts a limit on selection. But I think we can stick to our budget (around $800 or so) and find something that we really like — a long couch (84″), mid century style or mid-century (it's amazing how leaving out a hyphen can change a search result). I've found a lot of couches that almost make the cut, but they're always just slightly off the mark — too small (CB2's Draper, CB2's Parlour); too expensive (Blu Dot's Clyde, Steven Anthony's Dupont, 2BMod's Bel-Air — my favorite); I don't like the shape of the legs, the make of the legs, the height of the legs — yes, I know, I'm picky; the cushions are too tufted (Rowe Furniture's Dorset), the back is unfinished (Urban Outfitters Mid-Century Sofa (act surprised) — it's true, check out this picture). 
So far my search has led to a budding education in furniture manufacturers that produce couches sold to mass retailers like Crate & Barrel, West Elm, etc., in an undetectable manner (the Alphaville Robert Petrie sofa is sold as Petrie Sofa at Crate and Barrel for about a $250 markup) but unfortunately not much more. Why can't I just happen upon an actual vintage couch from the 1950s-1960s at a yard sale or flea market? I would run over to it and buy it without even finding out the price, and then when I did, it wouldn't even matter because the piece would be absolutely perfect.
I'd love some help. Do you have connections to mid century couches? If you spot one that could feasibly find its way into our apartment, it would so super amazing to let us know. Although, I'm sure, by next year when our slipcover has worn itself into oblivion and Urban Outfitters has ruined everything by opening up a mid-century, rare gems pop-up shop, I'll have forsaked practicality and be saving my money for the Lola Sofa from Shine by S.H.O. (below), which is what I really want anyway . . .