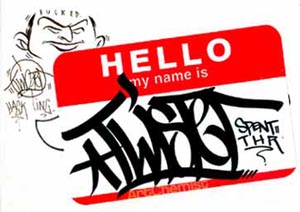 Well, we had a lot of submissions (thank you to everyone who expressed interest), but in the end, we found three lovely ladies who fit in quite nicely with what we've got going on here at the function key. Please join me in welcoming our newest members — Erin Goldberger, Allie Kushnir, and Kirin Rinehart (applause).
We're really excited about our new contributors because they hail from all over the country. We've got Erin, who lives in NYC; Allie, who lives in Iowa; and Kirin, who will be representing the West Coast all the way out in California. In the upcoming week's, you'll get to know them all a little better as they take part in new feature that we're launching. So stay tuned!
Twist tag via Artchemist.