We admit, top 10 lists are ubiquitous. But come on, everyone loves a quick and dirty peek into someone else's life, right? We're calling ours "Top of Mind" — a ten question rundown of whatever happens to be occupying the mind right now — this second! Today, our awesome new contributors are highlighted, and as we move forward, we're going to share our own top 10s and those of our favorite artists, designers, and otherwise interesting individuals. Enjoy!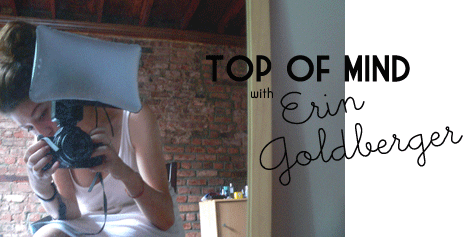 1. I'd never turn down Cheddar Goldfish.
2. Cranberry and Vodka will forever and always be my cocktail of choice.
3. My favorite dessert is Green Tea Mochi.
4. I cherish my mom's Mickey Mouse t-shirt from the 70s.
5. My phone is an old-school lime green LG.
6. I love sporks!
7. When I was 9 years old, Embassy Suites was pretty dope.
8. I buy the cheapest sunglasses I can find because I lose every pair.
9. My writers of choice are Lawrence Ferlinghetti and Nick Hornby.
10. I can't live without every type of cheese and my main people.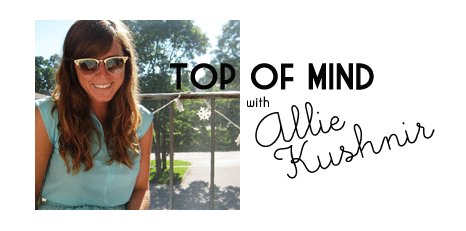 1. I've got a thing for antique birdcages . . . I don't own any, but I have been looking for a good excuse to for quite some time now.
2. Cowboy boots are a must have part of my wardrobe.
3. My favorite necklace is a gold chain with a little grey elephant with gold tusks hanging from it.
4. I'm really into this new restaurant called Her Soup Kitchen in Iowa City. All of its ingredients are from local sources, and its salads and sandwiches are all amazing.
5. I can't live without home videos . . . or tomatoes.
6. I would spend any amount of money on cheese. Okay, that probably isn't realistic . . . but I do love the stuff.
7. Old pictures of my parents are my most prized possession.
8. Right now, I could eat a Caprese sandwich . . . tomato, basil, mozzerella.
9. I love all vegetables except radishes.
10. I have a PC. But I'm not proud of it and am hoping to invest in a Mac in the fairly near future.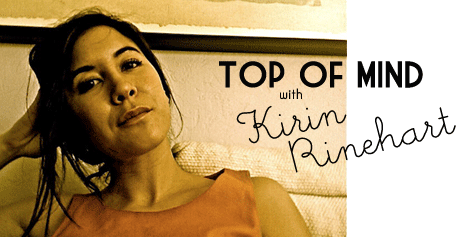 1. I enjoy a good Pimm's cup.
2. I love a date macaroon from The Buttery in Santa Cruz
3. I'd rather eat fish than meat.
4. I cannot wait for my wedding and honeymoon in Paris!
5. My favorite hotel is the Ace Hotel in Portland.
6. I love my super-genius canine Frannie.
7. I never leave the house without sunscreen.
8. Clogs are my on-trend item of the season.
9. My go-to snack is a fruit roll-up.
10. My most valuable possessions are a silver adjustable men's ring from Thailand that my mom picked up when she was in the 4th grade and my dad's baby ring.