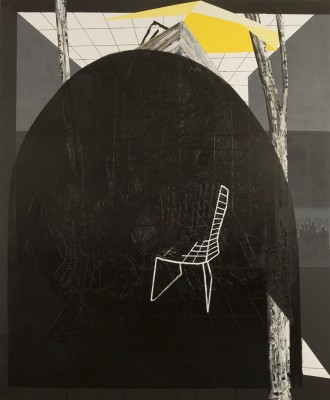 Blackout, 2008. Oil and acrylic on canvas, 102 x 84 inches (image via Salon 94).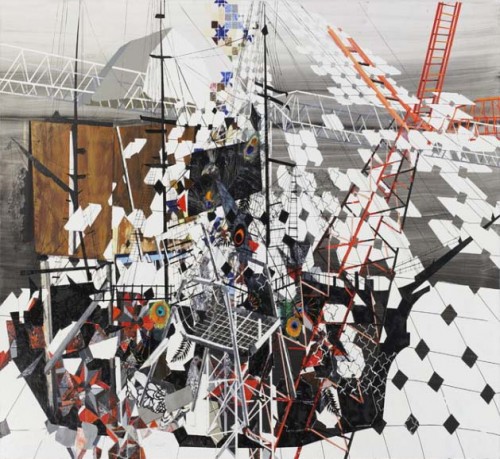 Black Ship, 2006. Oil on canvas, 84 X 120 inches (image via Salon 94).
On July 3, 2010, the Sanda and Gerald Fineberg Art Wall at the ICA welcomes a new installation by New York-based artist Francesca DiMattio. For this unique space, DiMattio looked to the architecture of the ICA and its Boston Harbor-location for inspiration, resulting in Banquet — a new and enormous multipanel kaleidoscopic assemblage incoporating images of ships and the sea. Until recently, DiMattio worked mostly as a painter, but it's her large-scale collages of organized chaos, which incorporate imagery that she finds in interior design, architecture, nature, and fashion magazines, that have had her trotting across the globe for group shows and solo exhibitions.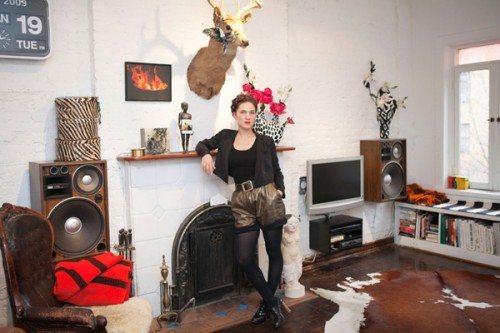 Being that she's only 28 years old and that she sources images from a lot of her parents old magazines, much of the imagery she uses is very familiar to both Ryan and I — probably because it appeared on our own parents' coffee tables, too. Recently, Refinery29 did a feature on Francesca's New York apartment (see below), and it's a feast for the eyes. I love that we share an affiniation for geometric patterns and pops of color, incorporated in her kitchen through a red KitchenAid coffeemaker, a mint green blender, and an orange Le Cruset Dutch oven.
"Banquet" be on view at the ICA's Sandra and Gerald Fineberg Art Wall from July 3, 2010-August 14, 2010.