Beautifying your bathroom can be a hard task when you're a renter, and it's usually the things you can't change — the countertop, the vanity, the fixtures — that are the eyesores in the first place! If I could, I'd gladly replace our current monstrosity with any one of these bathroom vanities, unfortunately my modifications extend only as far as adding a bathmat, a pretty shower curtain, or some artwork.
I've been trying my best to work with what we have — a vanity whose doors can't  fully open because they're placed adjacent to the door jam. My solution? Remove the doors and replace them with a funky curtain panel. I didn't want to spend a lot of money, so I used fabric I had lying around and made a curtain. Then, I used wire that I had to create a "curtain rod." Really, the cup hooks were the only thing I spent money on — they hold the wire "rod" in place. Here's how it turned out: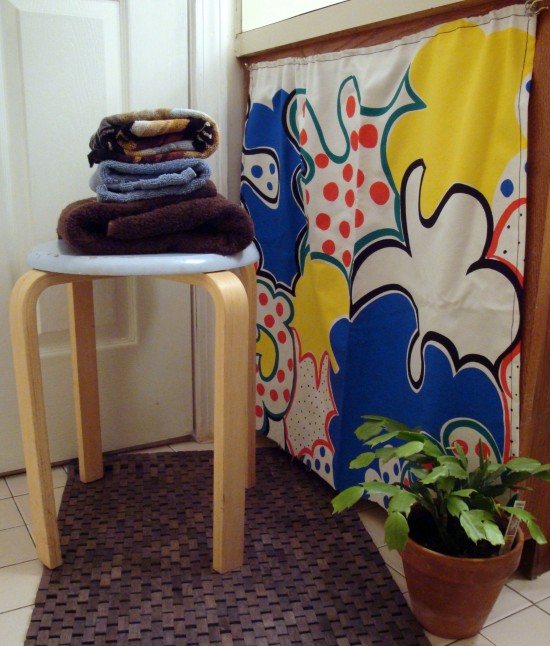 I'm pretty happy with the results, it's certainly an improvement over the original look. I've included a list of materials and instructions below in case you want to make a curtain for your vanity, too!
Materials:
Fabric (If you're going to sew your own panel, you'll need a sewing machine or needle and thread.)
Sturdy wire or similar substitute (You can also use a curtain rod or spring rod.)
2 cup hooks
1 nail
Pliers
Instructions:
1. Measure the area you're going to cover, then cut and sew your curtain panel. Remember not to sew the side seams to the top — you won't be able to thread the curtain rod through and hang the panel.
2. Using the nail, make two holes where you plan to screw in the cup hooks. The nail helps to get the hole started, so you won't be struggling to screw the cup hooks into the cabinet.
3. Screw the cup hooks into the holes until they're secure, then get your panel and thread the curtain rod through the top. Because I used wire I had to fasten the rod to the cup hooks using pliers, so I bent the wire around the cup hooks to hold the panel in place.
4. Voila — you're now the proud owner of a spiffy looking curtain panel that conveniently hides the mess underneath!